What follows is our account of an amazing night spent with our heroes, The Flaming Lips.



Dogman's take:


Showers of confetti and giant, colourful balloons bouncing over the audience started off the show – all to the tune of Race For The Prize. I can tell you, it was amazing. I accidentally head butted Brooke in the nose in my excitement (sorry Darling), the feeling was so overwhelmingly happy I couldn't control myself. Unfortunately I can barely remember the set-list, Eden and Lee will probably have a much better idea than me. I did particularly enjoy The WAND and Pompeii - Wayne's magical gong is so cool, the pictures I've seen don't do it justice. At first I was a little disappointed at the "toned-down" (by that I mean no drums etc) versions of Fight Test and Yoshimi Pt1, but upon reflection it was just incredible, Yoshimi in particular. Wayne said he didn't realise what the song meant until they started playing it live, I've never really thought too hard about the meaning of that song so now seeing it live has opened it up for me. The show closed off with Do You Realize?? How perfect… confetti was exploding everywhere, it was an experience not just for the eyes and ears, but for the soul.

- Dogman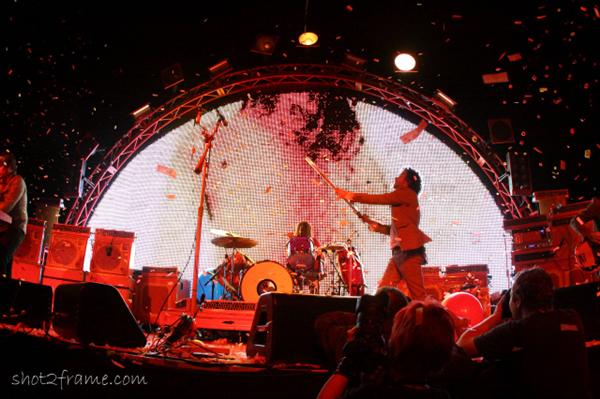 Eden's take:

Holy guacomole this was amazing! I started listening to the Flips some two or three years ago and since the first amazing experience I had listening to Pompeii I have dreamed of seeing them live. I began to fear it would never happen and when Lee told me he got tickets the shock seemed to numb my excitement. It finally sank in when the band stepped out of the pulsating vagina (seriously) and Wayne surfed the crowd in his bubble. Then Race for the Prize exploded in a wall of magical sound and confetti.

To be surrounded by thousands of people who love the band as much as, if not more than me was a euphoric experience. The whole set I had a massive smile on my face and everyone around me in the crowd was smiling as well. The W.A.N.D was my favourite of the set. So much power and energy, but that is like every song they did. Pompeii was even better than that first time I heard it. The Yeah Yeah Yeah song was sooo cool. They played two songs from the upcoming album which has left me even more excited about its release.

And to finish with Do You Realize...this concert has stayed with me. It's feels like it charges you with a happiness. I saw the Flaming Lips in concert and it made me a better person :D

- Eden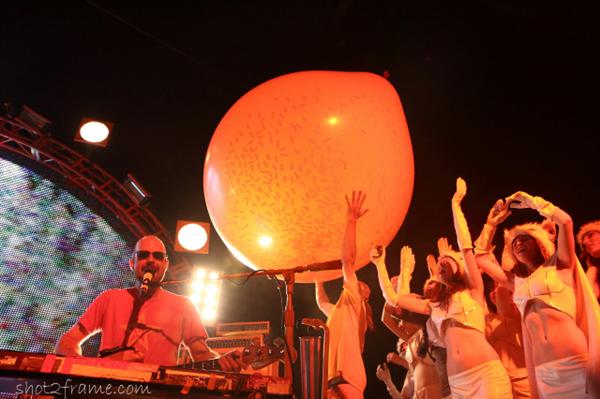 Lee's take:
The music of the Flaming Lips has been such an important part of my life over the last few years. When I found out that they were touring, I knew that July 28, 2009 was going to be a special day. I actually woke up a few times the night before from the excitement.
As we approached the Hordern Pavillion, someone tossed up the idea of having a few beers at the nearest pub, but alas, we had geeked out so much that we'd rather pay for expensive beer if it means we'll be closer to the band, even if they were still backstage for the next hour and a half. So straight to the venue we did go. I have a tendency to get anxious before a big show, but that night I was basically a recluse for the hour before the arrival of The Flaming Lips from an alien spaceship. I became inward and was looking around the room frantically, for no reason other than nervousness.
We first saw Wayne Coyne as he helped set up the gear on stage. Over the next 10 minutes, we were watching our heroes on the stage and the show hadn't even started. Within 15 minutes, the lights went down and we were all taken on a ride. When Race For The Prize kicked in, there was nothing that could hurt me. To sing Fight Test and Yoshimi in the stripped back way that we did, and to sing it with The Lips and thousands of friends, it was beyond special. As they were playing Enthusiasm For Life Defeats Internal Existential Fear, i actually realized that i would be happy if this one song went for the whole concert. But then there would have been no Pompeii Au Gotterdammerung. Pompeii was everything you imagine it could be from the album with Kliph pounding the drums like a madman and Steven's falsetto piercing my soul, Waynes gong taking the crescendos to another level and Michael's bass, oh my god that bass was charging us. The W.A.N.D. charged us again with the energy to face anything in our lives. When Do You Realize was played and I looked at my beautiful girl, I realised that we can't run out of love, it only recharges itself the more we produce it. So, as you would have read in Eden and Hamish's accounts, the concert was a genuinely uplifting experience of rock and roll, fun and love.
Something that really amazed me about The Lips is that as much as their music progresses to seemingly superhuman points, they are always a band. And to master so well the studio side as well as the live side of being a band, well, they truly are one of the all time great rock groups.
And to have shared all this with my friends, old and new, is the best thing of all.

- Lee



THANK YOU FLAMING LIPS!!