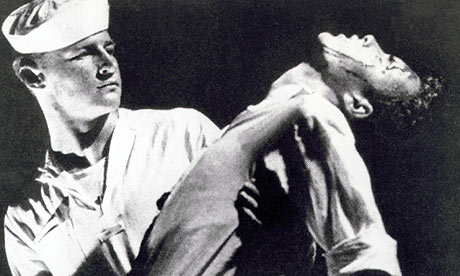 "It's time that Kenneth Anger's work became more available, because he is, without a doubt, one of our greatest artists"
- Martin Scorsese
Saturday 5 August 2006 – it was a beautiful warm summer's day in Santa Monica. I had just returned from a bicycle ride from Santa Monica Pier to Venice Beach and back, and was enjoying a cold beer at the hostel in which I was lodged. It was then that I met a guy from London (his name I cannot recall) - an event that would lead me to discover one of the most powerful and original film-makers of the 20th Century.
As we got past the usual get-to-know-you chit-chat, it was evident that we had similar interests. You see at the time, he was studying at Cambridge Film School, a fact that made me instantly interested in his affairs. Like me, he was travelling California by himself, and as I didn't have plans for the evening I inquired in his - "I'm going to UCLA to see a presentation of films by an Avant-Garde director called Kenneth Anger; and he'll be there in person to introduce the restored versions of a selection of his films over the past 50 years", he explained.
So after I invited myself to his adventure, we caught the bus over to UCLA, grabbed some burgers, and bought our tickets. The old theatre was buzzing with anticipation, not only because Anger was in attendance, but as my new-found-friend informed me, Anger's films had never before been widely available as they were in such poor condition for many decades. Therefore these restored versions were very-much sought after.
We saw around 4-5 short films, each introduced by Anger. The way that he described the themes and motifs within each film was intoxicating. The style was so new to me, I hadn't seen much independent cinema at that stage of my life and the images were giving my eyes an orgasmic experience. His use of pop-music and stylised shock sequences surely have influenced the modern-day music video. Furthermore, Anger's interest in the occult and homoerotic images makes the films so unique, so wonderful.
I left the theatre with a deep appreciation for Avant-Garde and experimentalist film-making, and a great desire to seek out more. David Lynch is a product and innovator in this respect, and since my Anger experience my love for his films has grown.
Around 6 months after that night,
The Films of Kenneth Anger Vol. 1
were released on DVD, after the UCLA Film & Television Archive transferred Anger's
Magick Lantern Cyle
films (his key films) to digital. I immediately jumped on Amazon and made my purchase – and now own both Vols. 1 & 2, ready for my viewing pleasure whenever I so desire.
Embedded below is one of the films I saw that night. It is only 3 mins 26 secs long, as Anger did not finish. The images remind me of something the Coen's would make - such as the opening sequence of
The Big Lebowski.
kustom kar kommandos (1965):
- Russell